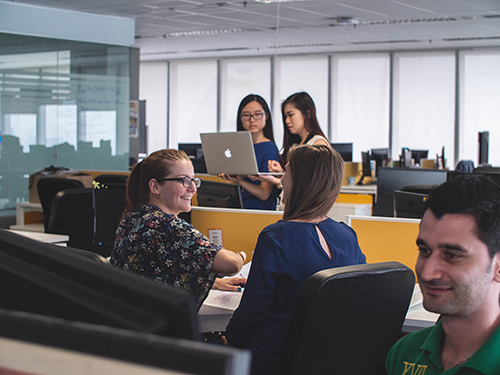 Training Your Company
Keeping your company in compliance and up to date on best practices, while providing opportunities for growth for your employees within their roles is a key part of any successful company. Providing these types of high quality training opportunities can be difficult, time consuming and very expensive. That's where we come in!
You worry about your business and we will worry about providing you with the best training available across a wide variety of topics and skill sets. Aurora provides the type of training that employees will love to attend and will also have an impact on your bottom line.
Empower your employees with training
geared towards growth!
Stop wasting time
Don't spend another minute developing a list of the topics you need training on and then trying to find local experts. We already have the topics and our experts are nationally recognized.
Improve your bottom line
The training will have an impact on your bottom line through better business practices, compliant procedures and efficiency improvements across the board.
Stop wasting money
Finding local experts can be expensive and approving training requests one at a time over the course of the year will add up quickly. With Aurora you pay a one time membership fee and enjoy unlimited access to all of our training for 12 months. No more individual training requests and no more looking for local experts.
Accountability
Your company account will come with an Administrator account that can track the usage of your whole company along with the usage of each person individually. You can also assign specific topics to specific employees as needed!
Flexibility
Training when you want and where you want with over 500 online video recordings to access!
Customized Support
Is there a topic you need, but you can't find in the library? Let us know and our planning team will work diligently to get it on the schedule as soon as possible. They love a good challenge!
"...this has been the best educational investment I have made for myself..."
I am so grateful to Aurora for creating this all inclusive learning program, where I can take classes in my field at my convenience. There are so many interesting modules to chose from including live classes being offered during the week. I can't believe what I didn't know....and its made me to do a deep dive into my HR process and revamp some of my practices. These courses have kept me up to date with labor legislation and HR best practices and made me cognizant of new tax codes, that should be on everyones radar. Hand on heart, this has been the best educational investment I have made for myself as Director of HR, the pro bono counsel I have received during the class and after with some of the course instructing attorney's, has more than paid for my annual subscription.
- Kathryn T
Live and on-demand training in:
Accounting
Best Practices
Communication
Compliance