Part One of a Three-Part Series
Introduction
This will be the initial article of three (3). The titles are:
WHAT IS TRADITIONAL VS. LEAN THINKING IN PROCUREMENT?
WHAT ARE THE TOOLS TO BE EMPLOYED FOR LEAN THINKING
Traditional Procurement:
The intent of this article is to impart a revisiting of current practices and provide insight to Lean Thinking. Below is a typical listing of tasks performed by a Purchasing department:
ACQUISITION ACTIVITY

Receive & review a requisition.
Find a supplier & approve source.
Create & place a purchase order.
Follow-up on status?
Expedite and/or change quantity/delivery.
Address problems/resolve with internal customer and supplier
Receive and inspect interface.
Accounts Payable interactions.
These activities take effort and time to perform. They also repeat historically over time for the item and/or supplier. Typically, we perform these tasks as we see they are our respective responsibility to do so. This is where the opportunity raises its head to say, "There's a better way to perform these duties!"
What appears is a different way of thinking and approaches to addressing various practices. Although its history/evolution was in manufacturing (as denoted in the graphics below), its principles and practices are applicable in procurement.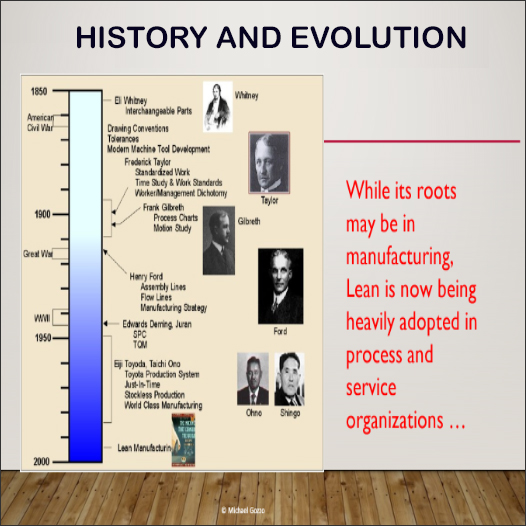 What is Lean Thinking?
It is a philosophy of doing more with less! It is based on the premise that anywhere work is being done, waste can be generated …. And should be minimized or removed!
LEAN IS A RELENTLESS FOCUS ON THE IDENTIFICATION AND ELIMINATION OF WASTE!
It is a team - based approach/process to help people to identify and eliminate wasteful efforts to increase efficiency and effectiveness.
It is NOT a long-complicated process based on statistical analysis. It is NOT a "top-heavy" initiative that takes a significant amount of up-front investment in time and capital. It can be deployed quickly and inexpensively in a pay-as-you-grow model.
So why use it?
We want to reduce waste, which includes inventory, the lead-time from our suppliers. In turn this will improve the productivity of our suppliers and respective quality/safety along with worker morale.
By removing waste, complexity reduces, it improves flow and assures that things can be done faster and be more predictable. It permits the opportunity to employ fewer unnecessary steps. It reduces complexity – reducing costs and improving quality.
Lean thinking enables the use of value-added activities. This aides in identifying the "POPULAR EIGHT WASTES":
OVERPRODUCTION
WAITING
EXCESSIVE TRANSPORTATION
INAPPROPRIATE PROCESSING
UNNECESSARY INVENTORIES
UNNECESSARY MOTION
DEFECTS
PEOPLE'S THINKING UTILIZATION
Look for more insight in the next article, "LEAN FLOW COLLABORATION"!