What we will discuss in this article are the tools and respective functionality we need to consider employing. Each of the following steps make up the RISK MANAGEMENT PROCESS:
Risk Identification
Risk Analysis
Risk Evaluation
Implement an Action Plan
Measure & Correct
RISK IDENTIFICATION: The third article, "RISK IN PROCUREMENT" provided detail information on such. Below is a summary reminder of such:
Loss of goods, reputation, or money (fraud, corruption, bribery or theft)
Loss of Intellectual Property
Losses from lawsuits
Supplier poor performance – quality, delivery
Tools to aid us in the risk identity process element are:
DELPHI METHOD – a group decision from EXPERTS via a questionnaire and comparison of their responses, along with a second round of questions regarding the analysis of their responses.

Another review/analysis of responses to the second round will provide further insight

The experts will then present their final findings in a CONSENSUS OPINION

SWOT ANALYSIS – is a methodology to guide you to identify:

S = Strengths and W= Weaknesses inside/outside of your organization
O = Opportunity and T = Threat providing an awareness of your enterprises strategic planning & decision making.

BRAINSTORMING – PROCESS

Team of involved personnel
Present ideas

Follow rules of brainstorming & respective process steps(SEPARATE FUTURE ARTICLE)

CAUSE & EFFECT ANALYSIS(SEPARATE FUTURE ARTICLE)
Create a RISK REGISTER:
It consists of:

Date identified/experienced
Description & type
Likelihood of occurrence
Severity of effect
Countermeasures – actions to be taken
Owner
Status – being fixed, fixed, or to be fixed
RISK ANALYSIS & EVALUATION: (STAGES 2 & 3 OF PROCESS)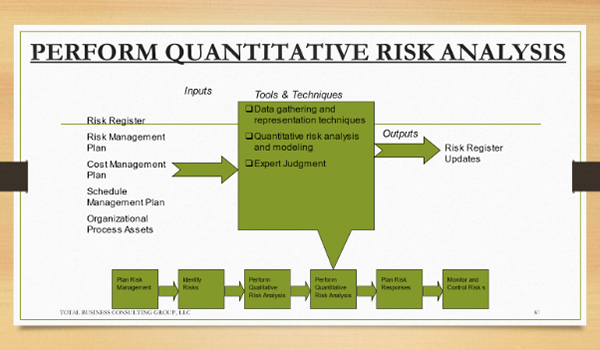 As can be seen in the graphic above, there are both qualitative & quantitative analysis happening. There is an analysis regarding the probability and consequence of each risk – this is depicted in the next graphic denoted below entitled "RISK LEVEL".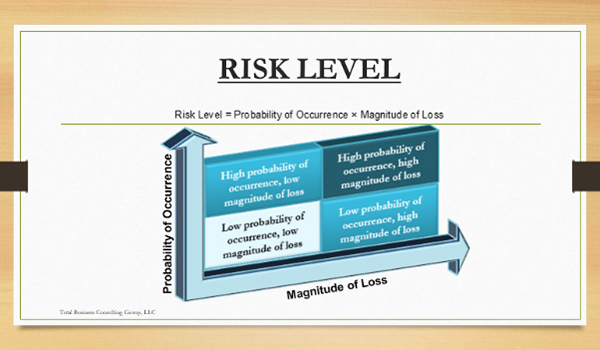 This would be used to prioritize which risks should be acted upon – NOTE THAT THOSE FALLING INTO THE UPPER RIGHT QUADRANT would get the priority & then the one to its' left the next.
ACTION PLAN & MEASUREMENT: (STAGE 4 & 5 OF PROCESS)
The basic Risk Responses/Plans are:
Avoid – Changing a plan to eliminate risk or its impact
ACCEPT – Take no action or unable to form a plan
TRANSFER – Insurance or contractual transfer to supply chain partner
MITIGATE – Preventative measures to reduce the probability or severity of risks
The management of the risk and the respective plan is best depicted by the final chart/process step of measurement: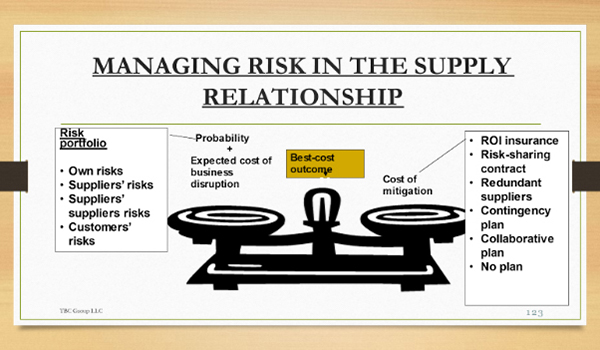 This completes the series of articles on RISK MGT. in Procurement. Look for more articles to help address issues in Procurement!