Part Three of a Three-Part Series
LEAN FLOW COLLABORATION:
This article is the third (3rd) article of three (3). The titles are:
WHAT ARE THE TOOLS TO BE EMPLOYED FOR LEAN THINKING
WHAT ARE THE TOOLS TO BE EMPLOYED FOR LEAN THINKING?
There are many tools, but this article will focus on the easiest and those to produce results quickly. They are:
KANBAN – denoted previously in the second article.
KAIZEN
5 S's
LEAD TIME REDUCTION
KAIZEN:
Why do it? It will act as a learning tool by establishing an environment for people involved within and outside the process (those who can impact or be impacted by the process) to come together with a quick burst of energy and experience to address improvement. The program acts as a change mechanism.
This event process has five (5) basic steps:
Identify the business case needing change.
Select the team.
Collect baseline data.
Set goals.
Plan & support the Kaizen activity.
FIVE (5) S's:
This tool is a series of practices that establish a philosophy that when you keep things organized, clean areas (housekeeping), standardize the practices and perform these tasks as a standard in your organization.
It is best depicted in the graphic below. As you can see there is the Toyota Production System (TPS) terms along with the respective American versions. I think the CANDO version offers a simple, straight version easy to remember.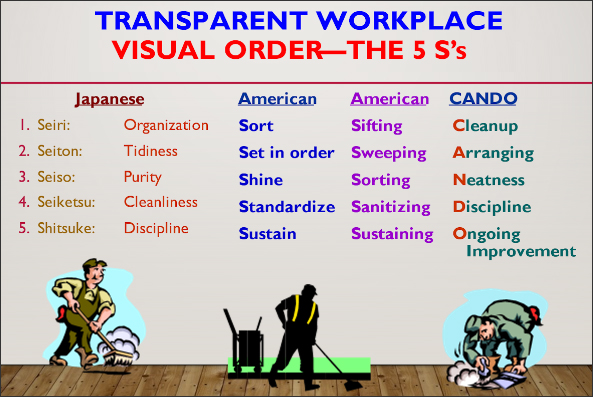 LEAD TIME REDUCTION ATTACK:
Let's start out with why this is an important/significant area to be addressed in the initial article – attack on waste! Waste is inherent in typical lead times. The definition of lead time is:
A span of time required to perform a process (or a series of operations) to meet a prescribed timeframe:

Whether that be administrative (procurement, accounting practices), production/service and logistics activities.
It is typically the time from the recognition of a need to the receipt/completion of the activities.
When we expedite the designated time frame, surprisingly the published lead time is compressed. This is an indication it is compressible. Which further acts as a potential source of improvement. Now enter the review of the elements that make up the activities involved in the work. What is quickly seen is a view of historic practices unsupported and acting on the premise "always did it that way" or voids of idle time and unnecessary efforts.
We have found in all our experiences that lead time can be reduced by a minimum of fifty (50) percent (%). It offers a significant opportunity to most firms to attack this area.
In closing, this series of articles on LEAN THINKING PRACTICES offers an opportunity for an enterprise to establish an effort to employ the principle and practices described.